Getting ready to abseil off the top of Gogarth I suddenly began to question myself. Could I remember how to tie a prussic, place gear or make a belay? The answer is yes, obviously I could. But it has been a while, over the past two years I have only climbed a handful of trad routes. I had just taken another three weeks completely off climbing due to a rouge sneeze that left me with a trapped nerve, spasmed back and an inability to do anything let alone climb. Pel a two pitch VS would be my first time climbing in a while. I was psyched but don't get me wrong I was gripped. Fear has become ingrained into my body over the past two years, fear of hurting myself again, not achieving what I should be and total irrational fear that comes with lack of confidence in your body and ability.
I chastised myself the whole way up this VS because I was completely and totally irrationally scared. Confidence in my body and my ability is low and this for me also has a direct impact on my head. Of course this makes sense, when you are feeling fit and strong and you know the climbing is well within your ability you can push on and be bold and brave. When you are unsurely of your capabilities and what your body can handle fear creeps in and gets set deep into your mind.
When I was fit and healthy I never took the time to appreciate what I could do. Go for a potter with friends, train a bit, train a lot, go on sighting or redpoint something hard. I took it all for granted. Over analysing and over critiquing every time I went climbing; could have climbed, harder, better, strong, bolder… Moving from one goal to the next on a constant mission to succeed and prove to myself I could do these things. I never fully appreciate that I could just do these things.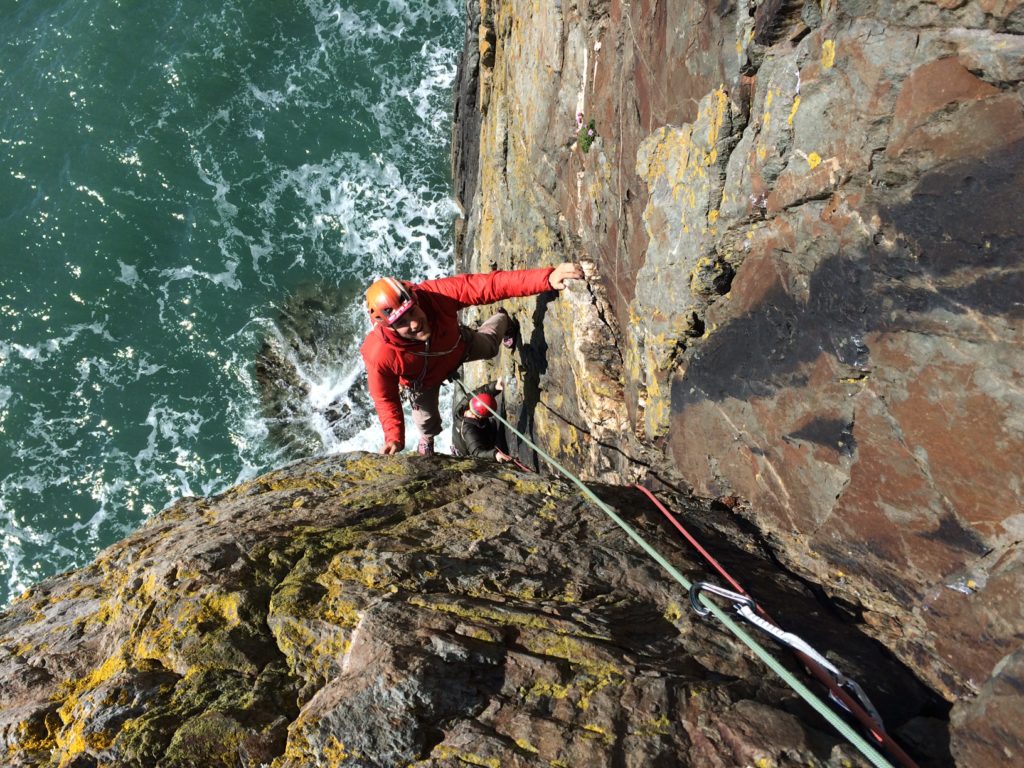 Alex seconding me up pitch one of 'Pel' at Gogarth
Then someone said this to me,
"the main thing is I'm climbing again. VS or E6 it's just climbing"
It made me stop and think that I need to stop beating myself up because I can't climb how I used to. Since being injured I have become fixated with beating my previous goals. But why? Maybe it is a way from me to prove I have beaten the injury?
I need to figure out what it is I really want from climbing. Is it to redpoint 8c? boulder 8a? head point E9 or really is there more to it than that? It is easy to get caught up in the whirl wind of numbers, goals and success that give you moments of exhilaration but a life time of empty promises – "When I climb 8b+ I will be satisfied". My fondest memories from climbing are those spent with friends in wonderful places. Maybe actually what makes me happy is exploring sea cliffs, alpine adventures, sampling the delights of big walling, new routing from a boat in Greenland, driving up the coast of Norway or exploring North East Africa in a van! I haven't done many of these things but I know which sound more appealing to me but maybe you need a combination of the two? Adventure and physical tests?