Gaia: The goddess of earth, the great mother of all creation.
As climber's we don't do particularly well at seeing the bigger picture and being content and proud of what we have achieved. We climb and train for those few moment of pure elation and relief when we send a project or heave ourselves onto the top of the crag after a gripping trad lead. Then a moment later or if we are lucky a day or two it is gone and we are already searching out the next climb to quench our thirst. I am as guilty as the next person of this but if you take a few moments to stop and consider I am sure you achieved something to be proud of last year.
I started the year rehabbing my ongoing lower back issues and was unsure how it would pan out. However, I finished the year with my first Font 8A under my belt, the final grade for the Triple 8's Challenge. A challenge that has taken me 9 years to complete and therefore the perfect opportunity to take a look back and appreciate all the stepping stones that got me this far. Achieving each of the grades has been special moment and for a very different reasons. So firstly what does this challenge actually entail?
It is a bit of a silly British challenge that involves climbing each 8 grade on rock:
French 8A
Font 8A
British Trad E8
For most climbers that want to do this, there is always one sticking point, a grade that feels quite unattainable. For the boulderer, climbing E8 may be a scary and intimidating prospect and for the trad climber bouldering 8A may feel physically impossible with out a huge amount of training time invested. For me, Font 8A was the biggest sticking point.
It all began when I was 18 and elatedly clipped the chains for my first french 8a 'Out of my Tree'. This was at my local limestone crag, Raven Tor, the route was short and packed a bit of a punch. I think climbing your first french 8a it a bit of a milestone moment for everyone and I was so flabbergasted I had done this mythical grade. I thought this was the pinnacle of my climbing.
Pulling a tortoise face and trying hard on 'Out of my Tree'. Belayed by my Mum. Photo credit: Keith Sharples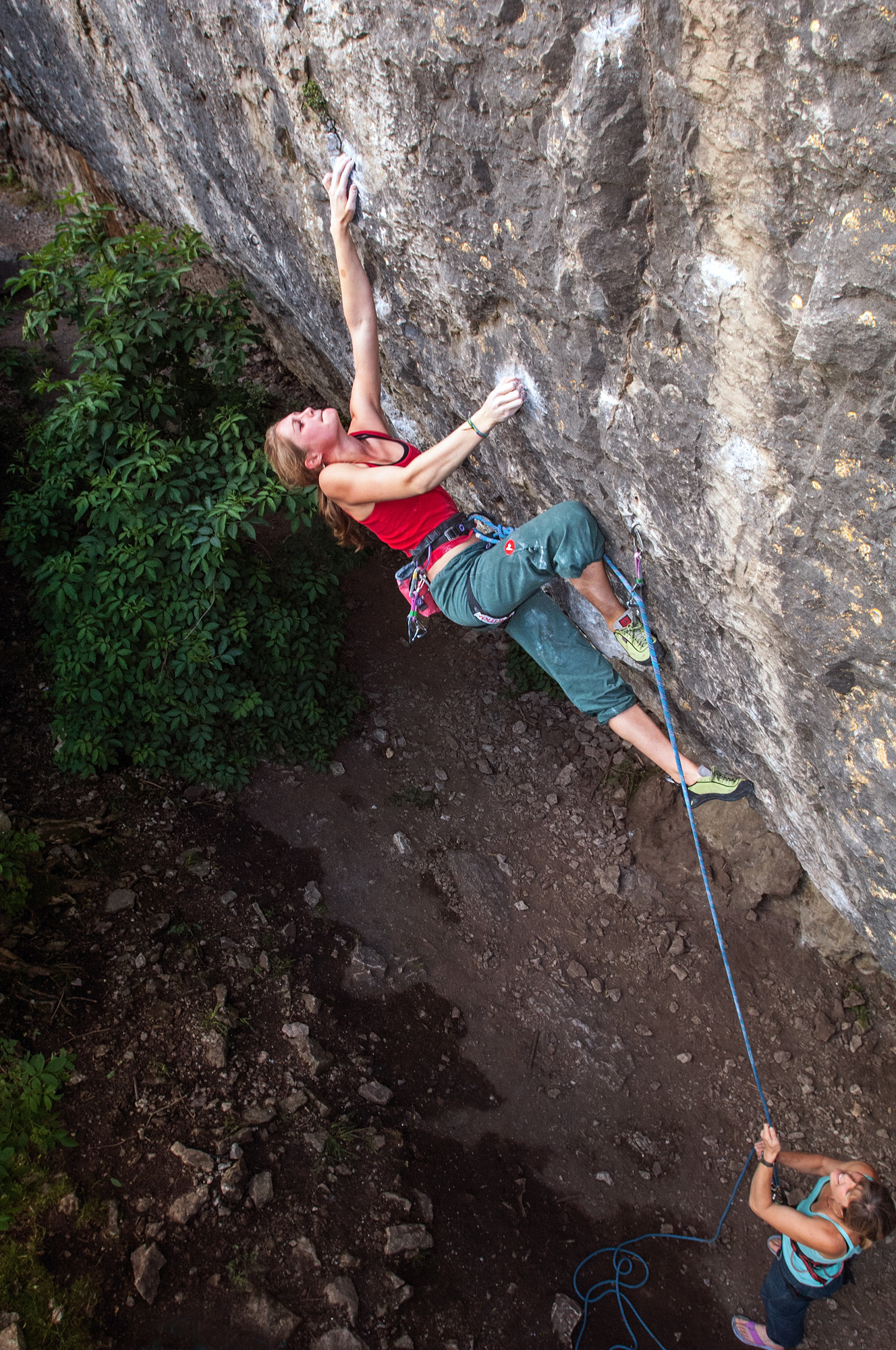 Over the next few years I got pretty into climbing on the local gritstone outcrops around the Peak District. The gritstone is very special to us Brits and is often referred to as "God's own rock" it is know for being bold, smeary and pretty gnarly. Apparently there are only three places in the world where you can climb on this wonderful rock. It is definitely a rock type you need an apprenticeship with, it chews you up and spits you off again and again and again but it teaches you three important lessons; how to move, trust your feet and be respectful – you never "expect" to do a grit climb!
So, with hundreds of grit routes under my belt I decided that I would try and head point a route called "End of the Affair" which came in at a hefty grade of E8 6c. This was first climbed in 1986 by Johnny Dawes. It is one of the proudest lines at the crag, a beautiful soaring arete, the crux at the top and just a couple of cams to protect at the bottom. The description however doesn't particularly encourage you to give it a go:
"death from the top floor"
I wanted to climb this head point style, so I top roped it first before having a go on lead. I wasn't feeling it that particular day but for some reason went for it anyway. Before I knew it I was up on the arete at mid height holding on with my left hand and stepping up and through with my right foot, I closed my eyes, took a deep breath and stood up. BAM! Suddenly I was staring back at an upside down belayer. My foot had popped with so much force it flipped me backwards and left me hanging upside down at the base of the route much to the amusement of my belayer! I was completely fine apart from a few bruises but my confidence and E8 intentions diminished for a few more years.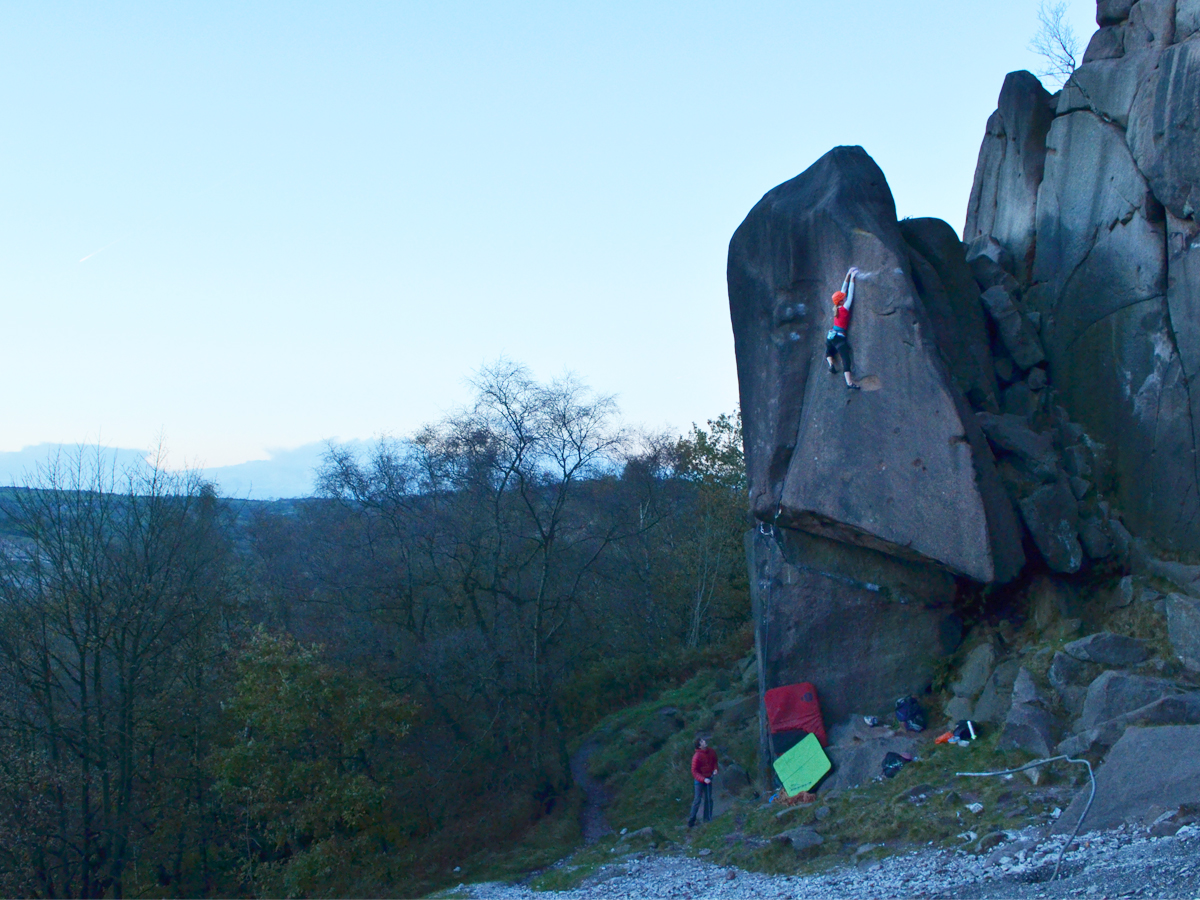 Photo credit: 'Gaia' by David Mason
In 2013 I decided enough was enough and I needed to face my fears and climb my ultimate dream gritstone route, Gaia E8 6C at Black Rocks.
Gaia: The goddess of earth, the great mother of all creation.
Gaia is the most beautiful route I have ever laid my eyes on. This huge block, set forward from the rest of the crag is impeccable. Aptly named and first climbed once again by Johnny Dawes, its beautiful weather worn curves have been carved over many years into just the right places, these provide the perfect amount of features to make it one of only two climbable lines on that face. Black Rocks is an intimidating and eerie place to climb; dark, gloomy, often green, quiet and the looming rock features around the crag seem to take on strange creature like shapes. Having practiced this climb on and off for many years I knew I just needed to bite the bullet. With darkness threatening it hurried me along and stopped the negative thoughts from creeping in. This E8 went to plan and before I knew it I was sat on top completely overwhelmed and a little bit emotional!
Video: I climbed my first two E8's within a week of one another, 'Gaia' & 'Knockin' On Heaven's Door'. The video follows some of my ascents over that winter including 'Paralogism' E7 6c at The Roaches.

Video: A short clip from 'Knockin' On Heaven's Door' E8 6c at Curbar Edge.
With two of the "8s" under my belt I knew I still had the hardest to come. To make matters worse shortly after climbing Gaia I injured my back and this year have only just started climbing again. With my body on the mend I knew I need to put in some hours of training and climbing if I was ever going to be able to climb font 8A.
A trip to Rocklands in South Africa was booked for the summer and provided me with an incentive to pull my finger out and train. A certain boulder problem had been on my mind from the moment the trip was booked, The Hatchling. Another perfectly named problem (you can see why from the photos). I didn't have high hopes of climbing this; it was high, steep and HARD but I wanted to try. After falling off the crux move over and over on my first session I managed to latch it only to then fluff the top section and fall off. I came back a few days later wondering if it had all been a fluke but somehow it came together first go and I found myself at the top of my first Font 8A. Finally completing my 8's challenge, a mere 9 years from when I first started it!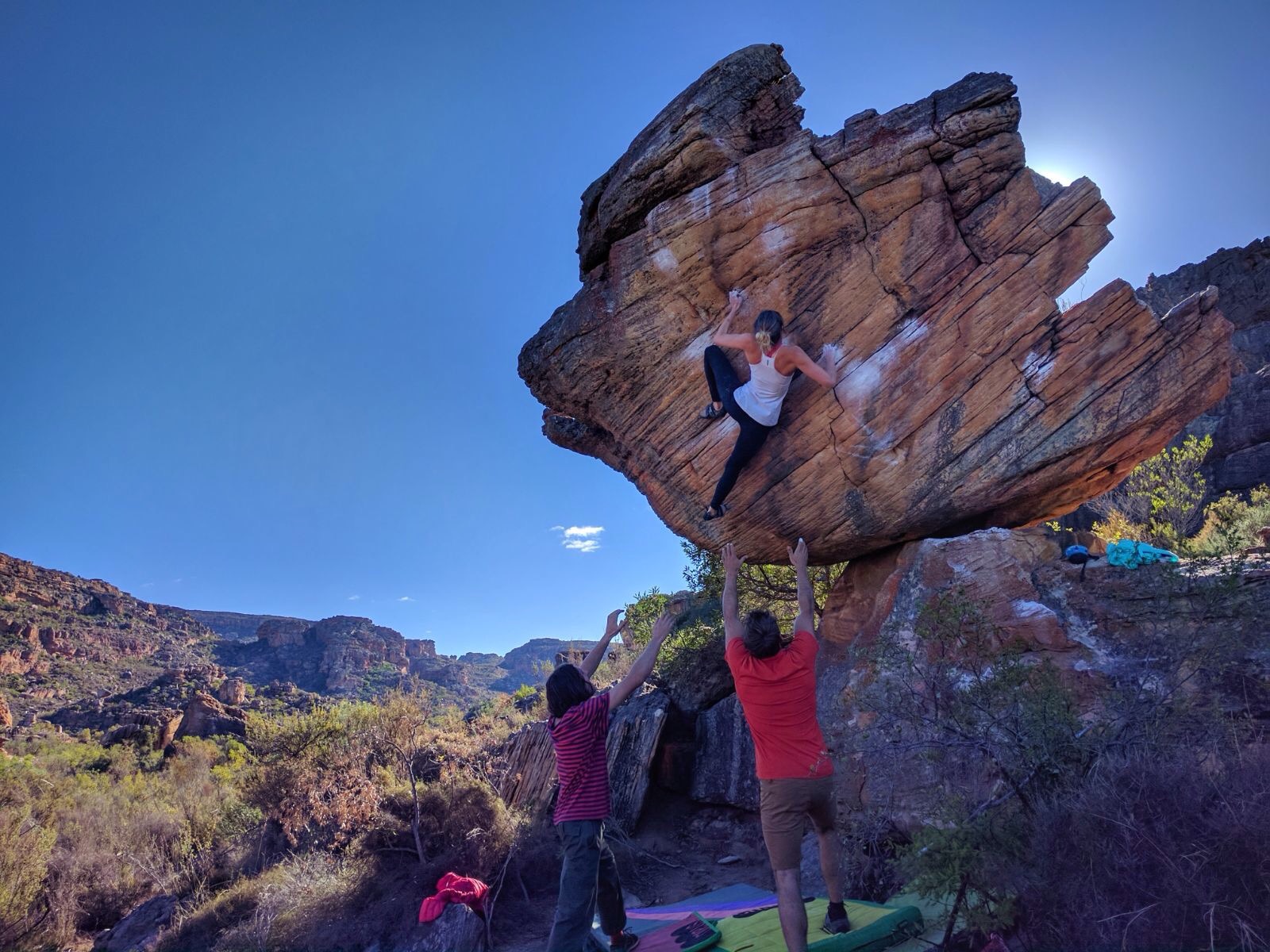 Returning to climbing after being injured for so long has been a complicated physical process but what I didn't expect was how mentally draining and confusing it would be. I am still finding my way but I want to step into the new year being proud of everything I have achieved so far. How I feel towards climbing has changed a lot and 2018 is going to involve a whole lot of learning and figuring out what it is I actually want, but most importantly lots of laughter, epics and adventures with my friends and of course Alex…