Time just seems to have flown by this year and I can't believe it is June already! It seems like Wales along with the rest of the UK has been blessed with a sunny and dry spring that I have been trying to make the most of.
My body is going from strength to strength and my back seems to be doing great. I have even managed to do a few months of training, something I haven't done for a very long time. People keep asking me what was the turning point and what made my back better? I am still unsure, I have made so many changes and tried so many things it is hard to pin point what actually made the difference. Maybe just an accumulation of everything…?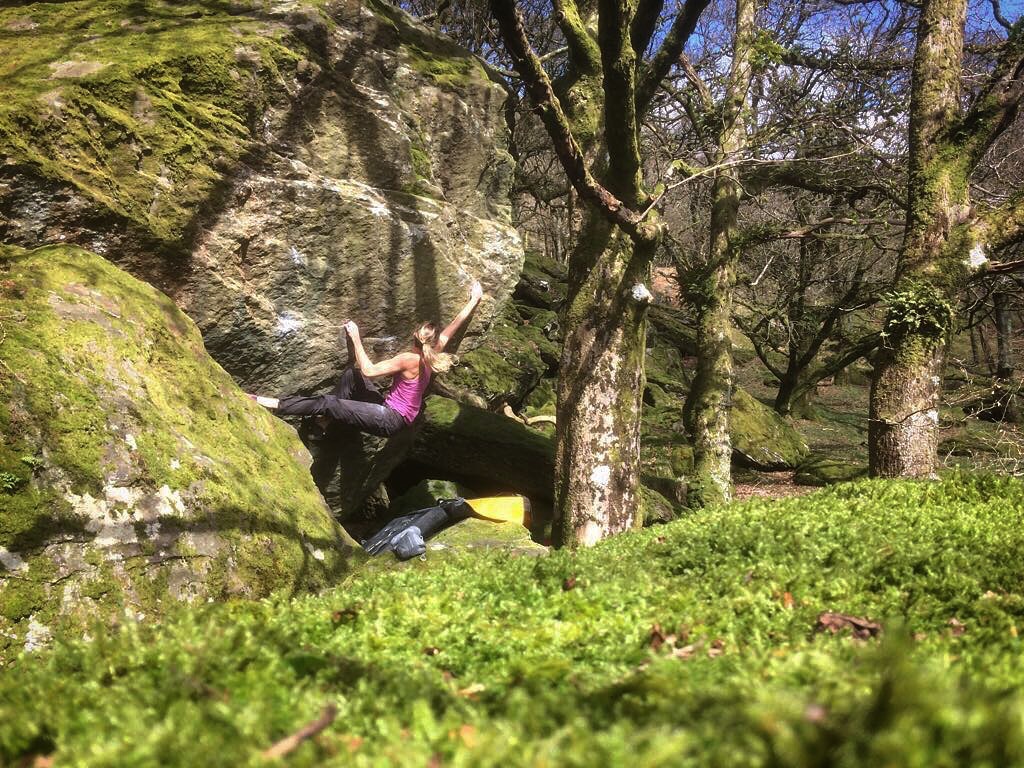 Training felt really alien to begin with, I felt like a lead weight and my arms didn't know what had hit them. It was unbelievable how quickly my body remembered what to do. The combination of a functioning body and a few weeks of recruitment really was an incredible experience. I couldn't believe how good and easy it felt to move around, I had genuine forgotten that this was how I could climb. It sounds silly but the doubts and lack of confidence began to melt away and suddenly those goals that had been quashed and dismissed because they seemed completely unfathomable when I was injured now seemed possible with some work. It felt amazing.
With this in mind I made the decision to base my year around working some major weaknesses, for me this has always been strength. My plan was/is to dedicate the rest of the year to bouldering something I have never done before. I have found the last couple of years of being injured very emotional and mentally draining and along with have some some completely melt downs while trad climbing the idea of now only going bouldering sounds very appealing. I have never really put any time into outdoor bouldering so it is quite exciting, I have no expectations and no pressure and that feels very relaxing.
It isn't all just lying in the sun and drinking tea though, I have some long and short term goals I would love to achieve. My bouldering dream is to do 8a, something that has always felt unobtainable. I actually had my heart set on Careless Torque but with my back finally on the mend there is no way I am going to go highballing for a long while. So I will see what comes along that inspires me, I am actually off to the Rocklands for 5 weeks in the summer but I think I will be too excited about all the climbing to just project one thing. Locally I set myself a goal of climbing Jerry's Roof (tourist start) before the end of the summer. I managed to do the cut loose move on my first session this year, a move I have never ever been able to stick and then on my third session I completed the problem. I was so shocked! I also climbed Nazgul's Traverse 7C at Rhiw Goch and have been working on Roof of a Baby Buddha, Manou and Corridors of Power all of which have been close but no cigar. All in all a much better start to the year than I ever imagined.