In my last post I spoke about how I needed to change my perspective and expectations of my climbing. To focus and think about what I really loved about it rather than performance and grades.
Since writing it I have been on a couple of trips and the first one was to Rodellar and Riglos. I had tried to go to Spain with suitable expectations but I was still shocked with how badly my body was functioning and this obviously had a direct impact on how well I climbed. I really really struggled, I did manage to flash a 7b but the majority of the trip was spent falling off 6cs and 7as. This was pretty tough to swallow to begin with. However, I tried to embrace it and hunted through the guide book for cool looking 6s and low 7s. It paid off as we found so many gems dotted around the valley and visited so many crags we never would have consider previously. Beautiful, peaceful and all to ourselves – winner!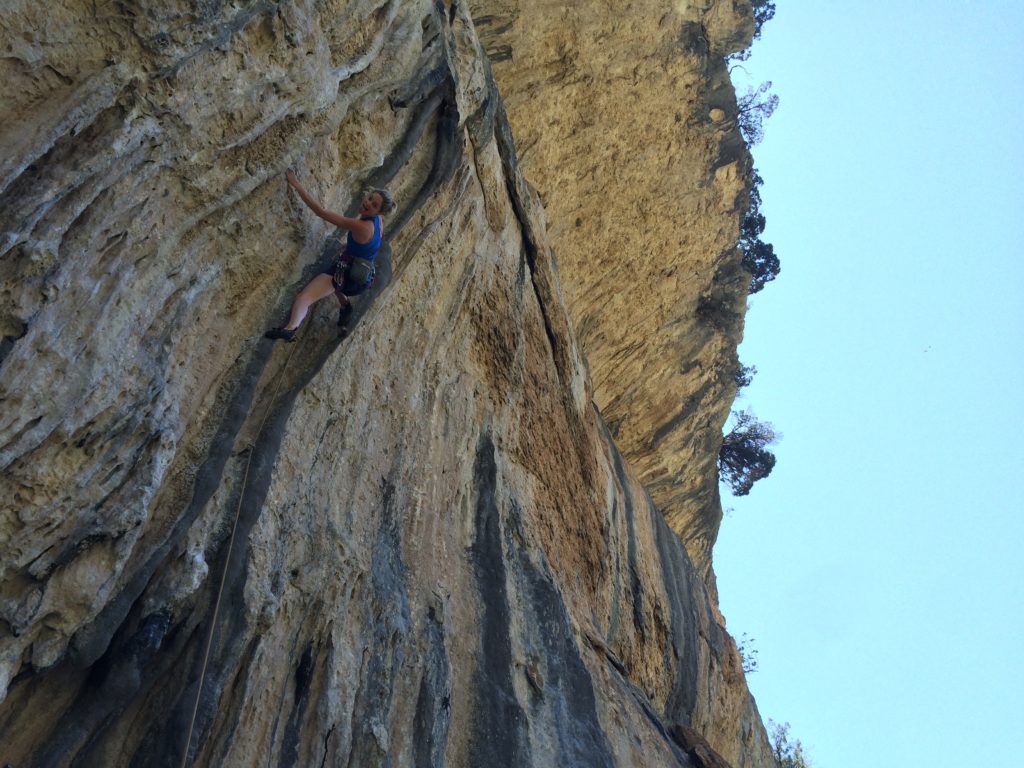 Climbing a beautiful 6b+ tufa in Rodellar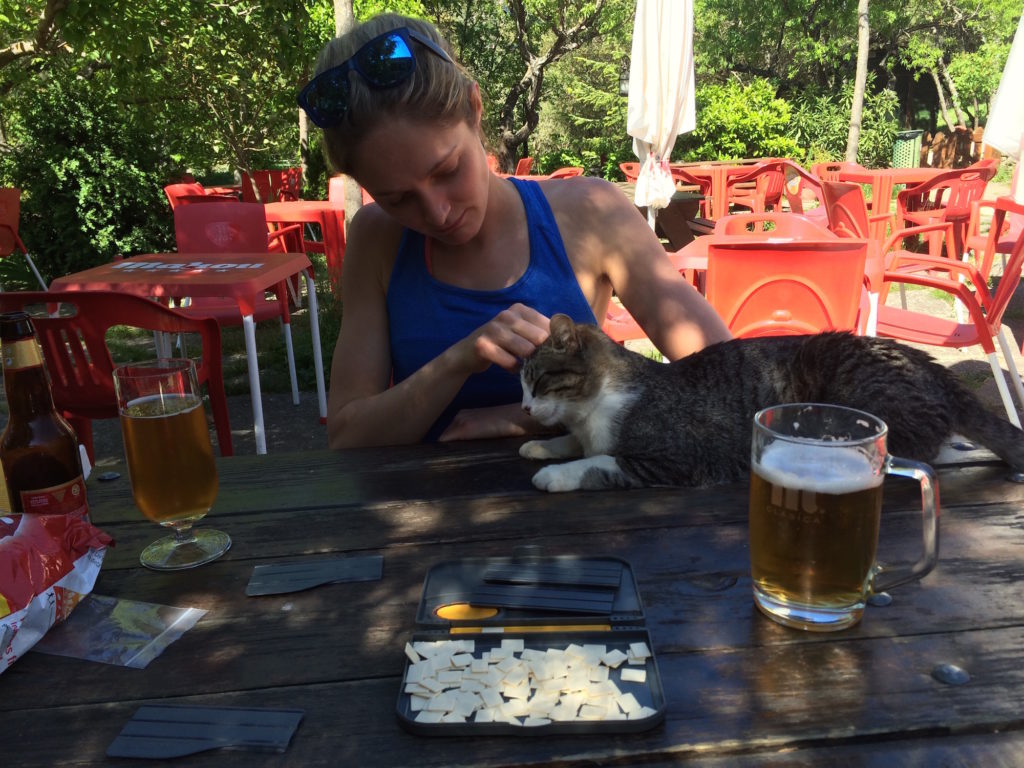 Sunshine, cats and gluten free beer!!
Before heading out to Rodellar we had made plans to call in at Riglos at the end of the trip to climb the classic La Fiesta de los Biceps, 7a on the huge conglomerate tower. This wasn't to much of a worry before I left but I swiftly realised whilst in Rodellar that 'Fiesta' was going to be much more of a challenge than I had previously expected. I was barely getting up 7a's and was climbing no more than 3 pitches in a day with out being exhausted. Fiesta was 7 pitches long with a 6c, 6c+ and 7a pitch involved! The last time I remember being so nervous about climbing a 7a was when I was 12 years old on a Junior GB team trip to Portland and I managed to flash my first 7a. I felt like a child again.
We arrived in Riglos in the evening and the towers look huge. We could see 'Fiesta' from the carpark, a pathway of clean rock snaking up the main tower getting steeper and steeper. We got up early the next morning, I could barely eat my breakfast I was so nervous. The crux was pitch 6 and Alex had some how persuaded me to link pitch 5 & 6 together (6b+ and 7a) into one mega romp through the steep potatoes. He assured me that it was impossible to get pumped as the holds were so big and you could hold them in so many different ways. I wasn't convinced but with some encouragement left the belay and set off up the 70m pitch. By half way I was boxed not only in my forearms but my biceps had pretty much given up the ghost – and this bit was suppose to be only 6b+! Above me the 7a pitch looked incomprehensibly steep and I looked longingly at the 6b+ belay wondering if I should bail out. Somehow the 10% of me that wanted to carry on won the battle. I made a few big slaps through the steep section as my arms weren't allowing me to bend them and as I turned the lip I was so unbelievably pumped I thought I was off but some how made it to the belay.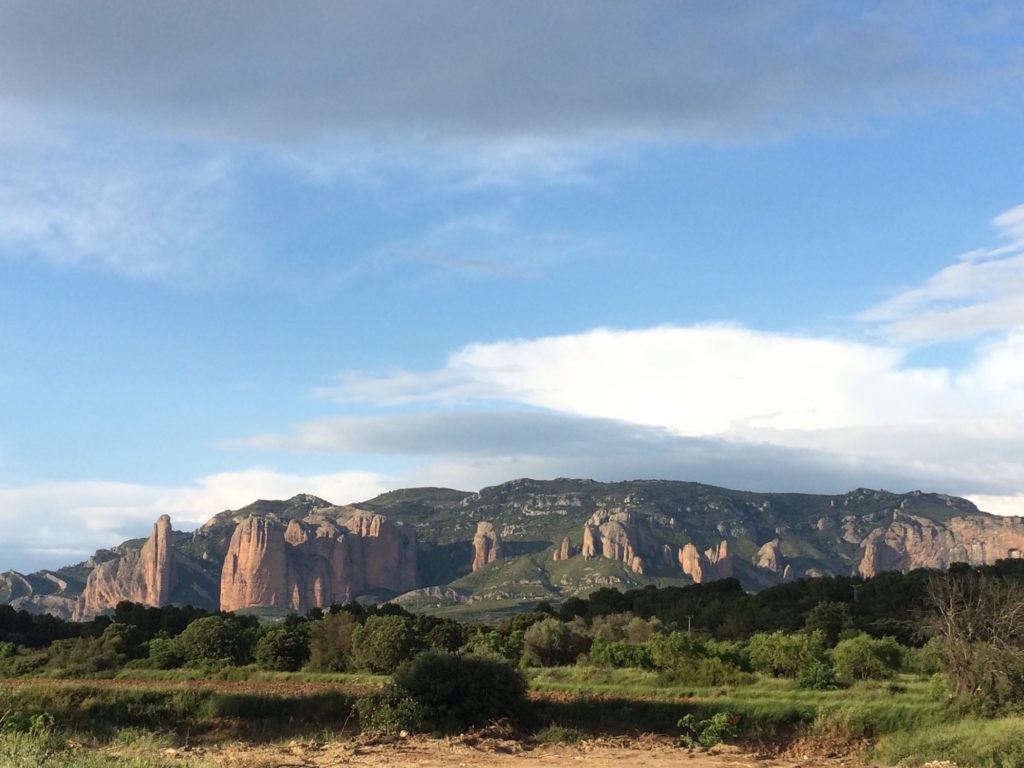 The Riglos towers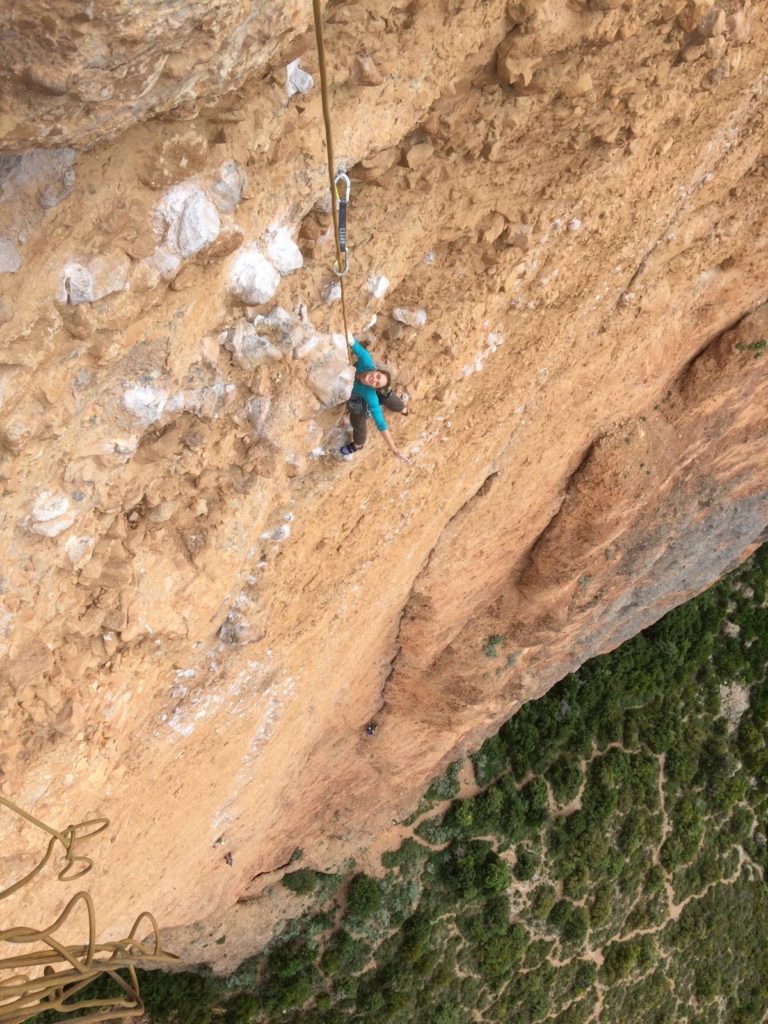 Climbing Fiesta de los Biceps
What a great feeling it was topping out. So much of me physically and mentally had gone into this route and yet it was only 7a. I was psyched beyond words to have found myself a challenge that was so different to previous achievements but yet so satisfying. It certainly wasn't ground breaking and if it I had been able to cruise up it well within my limit it probably wouldn't be very memorable but to be climbing in such a unique position with a wonderful person and over coming a big physical challenge made it pretty special. A day neither of us will forget.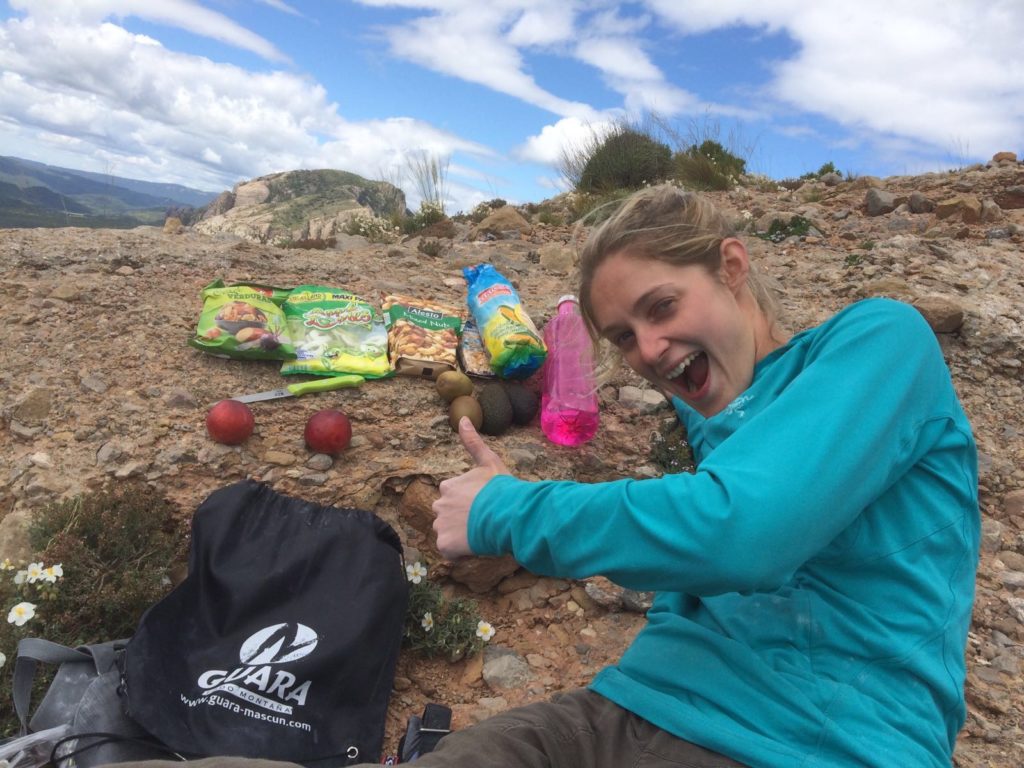 Pretty happy that we carried all that food up 7 pitches of steep conglomorate for our summit picnic!!